About Hot To Go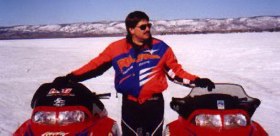 "Hot To Go" owner - Rob Schooping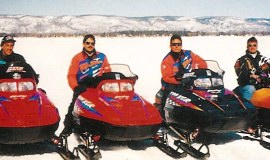 Leisure time with guys from "Hot Sled" magazine.

Enjoy the ride and have a safe season !

HTG has been in the high performance snowmobile business for 15 years. Our staff consists of veteran snowmobilers and racers who bring to HTG a vast amount of hands on experience. Rob Schooping, HTG owner, has been a snowmobiler since 1967. Over 30 years of riding and racing experience has given him immeasurable knowledge of the snowmobile market. In those years Rob has ridden and worked on many brands of snowmobiles but for the past 10 years his primary concentration has been with Polaris.

With the increase demand for aftermarket products, HTG is committed to making the best performance products for your Polaris machine. Many hours of R&D work go into testing products in the dyno and on the field. We personally run new products on our own machines before we make them available to our customers. Rob spends countless hours on the phone answering tech questions. He feels that this is the best way that he can stay in tune with the wants and needs of today's snowmobiler.

We at HTG would like to thank the racers for all their hard work and dedication. We receive valuable feedback from the many hours they spend testing and tuning their race machines. Here in the Western New York area we have one of the largest turnouts for asphalt racing in the country at Lancaster Speedway.
This business has recently outgrown our expectations. We have purchased land and are now in the process of planning a new facility better equipped to handle the tremendous demand for hi-performance products. We want to have a showroom with an increased product line including clothing and accessories. HTG would like to expand our pipe departments so that we can develop pipes for additional makes and models. We at HTG Racing are committed to snowmobiling and hope to earn your business by giving you our best technical advice and high quality parts.